Email /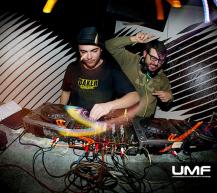 BASS BROTHERS - GET GRIMEY EP
BIOGRAFIA
Hailing from the Portuguese city of Viana do Castelo, Bass Brothers have been making waves not only in their country, but also internationally with support from some of the biggest names in Europe. This support has led to the dynamic duo gaining recognition not only in the underground scene, but right across the mainstream spectrum of Drum and Bass. So much so that they were awarded the title of 'Best National D&B Producers' at the COP Drum & Bass Awards 2013 in Portugal.
Having broken onto the scene in 2011 with their remix of Dub Zero's 'Get Up', Bass Brothers have firmly established themselves as one of the most exciting up and coming artists in the Drum and Bass arena. Two more releases on Easy Records and a breakthrough remix of Heist's track 'Unicron' finally saw Bass Brothers' gain the attention of DNB pioneer DJ Hazard; earning them a release on his label Radius Recordings. Such was this breakthrough that Hazard included 'Mr Jungle VIP' in his Fabriclive Mix, which was released in September 2012.
From here they were catapulted into the mainstream with their innovative sound, as DJ Hype aired 'Jamaican Thug' on his Kiss FM show for the first time. Hype was sufficiently impressed by Bass Brothers' immediate and hard-hitting creativity that he invited them to join the Playaz family, and they are currently working on their first work for the label. Since this they have been featured on Crissy Criss' show on BBC 1 Xtra and have consistently found their tracks played in the sets of the biggest DJs right across the world.
An interesting array of influences ranging from 30's jazz and swing music to Hip-Hop and Funk has resulted in an eclectic blend of old school ferocity with new school originality. Their ability to fuse genres in an emotive and contemporary fashion is what sets Bass Brothers apart from the rest of the pack. They have proclaimed themselves that they are 'inspired by the music of the past doing the music of the future'. Be sure to keep your eyes peeled for future releases from Bass Brothers on Playaz!
bookings: info@garagem.com.pt