Email /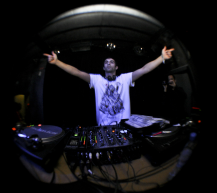 BIOGRAFIA
DJ MIGDRUM (Born Miguel Silva, 11.03.1989)
DJ Migdrum is a respected deejay in the world of Drum&Bass and Dubstep Music, his style is based on strong and systematic drops to leave his ravers unstopabble.
His music career began when he started to DJ in his Bar "Lenis Bar". During this time, he worked with the influential House DJ who helped to learn the basics of mixing.
In 2007, DJ Migdrum started to like Drum&bass, and start to move on.
DJ Migdrum has collaborated with a number of artists, such as ERBNDUB,DJ ODER,BENVINDA,BASSBROTHERS,CRISSY CRISS,MARKY,BEARDYMAN,ALIXPEREZ,DUBZERO,SUBSERO,KG,SOBASS,DOGZUNITED,BASSMONKS,D ELEMENT Q,NUNO FORTE,BLAST,SURFACE,BLACK SUN EMPIRES,LOGISTICS,DELTA HEAVY,SOUNDPROOF and many more..
In 2010, Migdrum & Pedro Martins, started a project , named "EAR SOUND", aiming to Drum&Bass/Dubstep Music Events promotion, Label, DJ Management/Booking,Magazine/Media.
https://www.facebook.com/earsound
Localização
Javascript is required to view this map.