Email /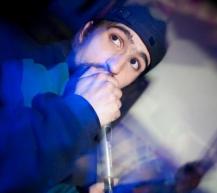 BIOGRAFIA
Tresh, is a Drum & Bass MC since 2002. He has performed alongside the best portuguese DJs, such as: Alif, Nokin, Nsekt, Nuno Forte, Real Phase, Skalator, Sleepz, Subway, Uzi and Trap, and playin, from North to South, in some of major nightclubs and events.
Until now, he had the privelage to perform alongside internacional established artists, such as: Anile, Calyx, Darren Jay, Fabio, Original Sin, No Money, Serum, Temper D, The Qemists, The Square, Trei, Vicious Circle and Zen.
In the year of 2008, he was invited to become member of the first DNB portuguese label, Speaker Blower Records, and started his first studio work in the Drum & Bass with Dr. Speaker Blower and The Kronik People feat Sour Singer, and in the Breakbeat area with Freimatic.
This young artist was acclaimed best portuguese DNB MC, for the third consecutive year, by COP DNB Awards 2007/8/9 and also by Backstage Music DNB Awards 2008.
In 2010, he had his first internacional experiences in United Kingdom (Eastbourne) and Germany (Frankfurt and Wisbaden), where he performed live and participated in radio shows in each country.
In 2011, he collaborated on the production of the "Just a Dream" EP by Lpx, signed by the greek label V.I.M. Records, and vocalized three Dubstep tunes.
Releases:
» "Back to reality" by Dr. Speaker Blower - "Dark Side Has No Gravity" LP - Speaker Blower Records (2008);
» "Phantom" by Dr. Speaker Blower - "VA AFTER808" - Cows on Patrol (2009);
» "Liberation" by Freimatic - "VA Boxon Makes Me Happy" - Boxon Records (2009);
» "Two Faces" by Dr. Speaker Blower - "The Spider and The Fly" EP - Speaker Blower Records (2010);
» "Nightmare" by Dr. Speaker Blower - "Man vs Machine" EP - Speaker blower Records (2010);
» "Just a Dream" by Lpx - "Just a Dream" EP - V.I.M. Records (2011);
» "Do You Know" by Lpx - "Just a Dream" EP - V.I.M. Records (2011);
» "Night Guardian" by Lpx - "Just a Dream" EP - V.I.M. Records (2011);
> "Bass Agression" by Dr. Speaker Blower – "Distorted Visions" LP – Speaker Blower Records (2012)