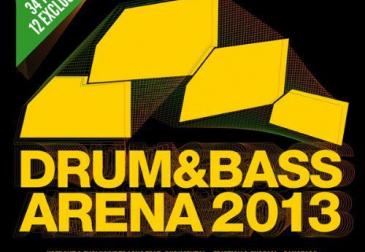 A prestigiada Drum & Bass Arena volta a editar a colectânea mais representativa do drum & bass internacional. São 34 faixas divididas em 2 CDs com o que de melhor se faz actualmente sendo que 12 das faixas são inéditas e exclusivas desta colectânea.
A edição de 2013 conta com uma faixa do português DJ Oder, DJ/produtor que dispensa apresentações enquanto produtor de Drum & Bass em Portugal, tendo sido o primeiro produtor português a ver um tema seu na colectânea anual da Drum & Bass Arena, em 2012, e tendo repetido o feito em 2013 com «9020».


DRUM & BASS ARENA 2013 - http://dnba2013.breakbeat.co.uk/
The biggest selling drum & bass compilation series of all time is back!
Drum&BassArena compilations deal strictly in freshness. From trailblazing new artists to established scene-shaping legends, Drum&BassArena dig deep to represent the widest picture possible… And always delivers a wealth of exclusives!
Naturally Drum&BassArena 2013 is no exception - in fact it's most exclusive-heavy compilation to date with 12 huge previously unreleased tracks.
D&BA 2013 features: Rudimental, Friction, J Majik & Wickaman, DJ Hazard, Serum, InsideInfo, T-Phonic, BTK, Dub Motion, Nitri, Zen & Bladerunner and many more!
DJ ODER - 9020 (EXCLUSIVE TRACK)


Drumkid - May Promo Mix
Adicionado em 20-05-2017

Macow & Gonga - February Promo Mix
Adicionado em 28-02-2017

Zero Degrees - January Promo Mix
Adicionado em 31-01-2017