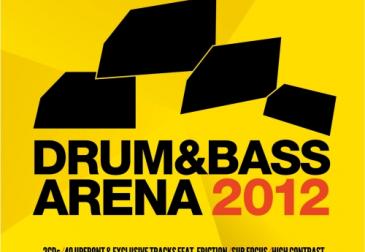 DJ ODER NA COMPILAÇÃO DNB ARENA 2012
O tema Rock The Place de DJ Oder, que saiu em Janeiro de 2012 em Vinil e MP3 na editora Britanica Titan Records, foi agora incluído numa das maiores compilações de Drum&Bass do Mundo!
A Compilação 'Drum&Bass Arena 2012' reúne 40 temas que abrangem todas as sonoridades do emergente cenário Drum&Bass incluindo nomes como Sub Focus, Friction, Rusko, Noisia, Loadstar, Crissy Criss, Benny Page, Wilkinson entre outros.
Showcasing every shade, every style, every flavor, every formula…
Drum&Bass Arena 2012 is a picture perfect snapshot of where the scene is at right now.
Brandishing bass magic from every coded note, we've crammed two cds full of the world's most commendable production talent; from Shy Fx to High Contrast, Sabre to Subfocus, Hammilton to Noisia, Stanza to Friction. Founding scene figures B2B Hotly tipped emerging players, Drum&Bass Arena 2012 is bulging with material from the scene's most crucial producers - each cut tried and tested and primed and perfected for total club devastation.. What's more, eight of them are 100% exclusive. You will not hear them any where else!
No filler. all thriller… DNB Arena 2012 is the alan sugar of the compilation World. We mean Business. Big Business.
Mais informação no website da Drum and Bass Arena 2012
texto: Zona 6

Drumkid - May Promo Mix
Adicionado em 20-05-2017

Macow & Gonga - February Promo Mix
Adicionado em 28-02-2017

Zero Degrees - January Promo Mix
Adicionado em 31-01-2017